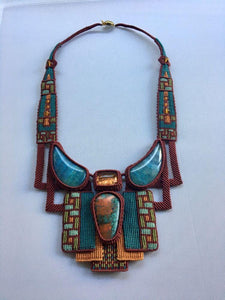 Karen Smith, tapestry necklace with Sonoran sunrise cabochon, rutilated quartz and blue lace agate centerpiece stones, in thread colors of burgundy, olive and light blue, and with amber accent beads.
The bottom of the necklace hits at approximately 26" length.

Karen says about her work: "For almost 40 years I have been working with micromacrame knotting to create jewelry and tapestries inspired by cultures around the world and the abundant natural beauty in my own backyard. Using primarily #18 nylon thread in dozens of colors, I work with a small variety of knots to make patterns of my own design. I often incorporate gemstone cabochons, fossils, and beads, and occasional woven, fabricated metal into my pieces. To break up the linear aspect inherent in textile patterns, I insert knotted ribbons or bundled, wrapped threads, which pierce the tapestry and give dimension and flow to the work. I knot over soldered wires to secure stones within their bezels, however most of the structure of the work is formed by the knotting alone.
Each of my pieces is a journey of exploration in textures and colors. After all these years, I feel I am only just beginning to discover what is possible with this medium."