Highlight Gallery
A light-filled space filled with a myriad of fine furniture and art, fine craft, ceramics, sculpture, wall art, jewelry, textiles, all lovingly hand-created.
Featuring Jan Peterson Sandpaintings
"A stream of visual delights, nourishing the senses."

customer
The Highlight Gallery is by far the best gallery on the North Coast. My wife & I have thoroughly appreciated your beautiful selections & artful displays every time we get a chance to visit Mendocino, ever since you opened in 1978 as The Guild. Thank you for being the Jewel of Mendocino!

Long-time customer
One of the most outstanding fine art galleries on the west coast. Fine woodworking and custom furniture, elegant ceramics, paintings and textiles... and of course, stellar wire sculptures!

All this and more, with a breathtaking view of the ocean from the gallery windows.

Elizabeth Berrien
Featured Artist Laurie DeVault
Featured artist
Richard Weiss, Optical Illusion Artist
https://vimeo.com/828788253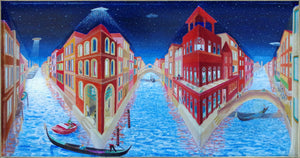 Rare Sale of Chris Deverill sculptures
Special Holiday Sale
Chris Deverill's bronze sculptures have a warm and whimsical quality that makes you smile...this rare opportunity to own one of his limited editions at a reduced price will make you smile again.