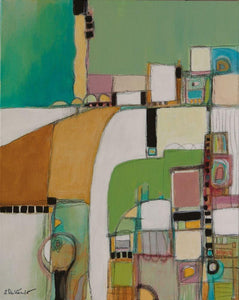 Laurie DeVault, Summer on the Shore, contemporary abstract acrylic painting, the greens of summer.
16 inches wide by 20 inches high, acrylic on canvas, gallery wrap.
Laurie DeVault is a contemporary abstract painter whose creative process relies on exploration and intuition. She rarely plans her paintings, preferring to stay in the present and let her brush lead the way. She finds non-representational art to be very liberating, much like improvisational jazz or dance, in which she can create with complete spontaneity, free from self-limiting judgments and preconceptions.