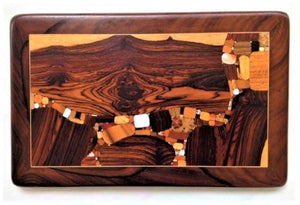 Chris Cantwell, Strange Cat, 13.25" x 8.5" using over 100 kinds of wood, and shell.
Each piece is one-of-a-kind, with elements that are designed to fit the character of each specific piece of wood."I work with the wood and my own ideas when I make my designs. Often, the challenge of using a grain pattern in the best way, or working with a particular piece of wood, will fuel my inspiration." 
Christopher has developed exclusive techniques that are not practiced by woodworkers trained in more traditional realms. The result is a unique style, with each piece exploring both angles and curves; nature versus man-made; emotion and logic; joy versus misery.
One of the premiere artists in the U.S. specializing in fine woodworking inlay design. Christopher Cantwell lives near Yosemite National Park and his unique wood work is strongly influenced by the nature, its multi-faceted geography, landscape, and natural wonder that surround him. Christopher Cantwell is an artist difficult to classify in terms of contemporary art, craft, or even among his peers in the field of wood art. The artist's approach is non-traditional, and his exploration of forms and functionality in each new piece is unprecedented. Most importantly, Cantwell's art presents a bold approach to contemporary sculpture, utilizing the natural beauty of wood and exquisite craftsmanship to instill concept and narrative.
A self-taught woodworking artist, Cantwell is an avid rock climber, snowboarder and surfer.
Cantwell's work is featured in private and public collections, including the ornament collection of The White House in Washington, D.C. Other collectors include Dr. Irving Lipton, who was noted for having the largest collection of contemporary wood art in the world. Over 100 galleries and museums across the nation and internationally have exhibited his pieces.