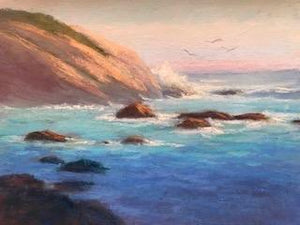 Francine Hurd, Mendocino Evening, pastel, seascape, evening light on the rocky coast of California. Image size 9 inches by 12 inches, framed size 15.5 inches by 18.5 inches.
The pure beautiful colors – the spontaneity and permanence of Pastels and Oil have been an influence in Francine's art.  Landscapes and Figurative work are her favorite subjects.  She loves the feeling of the quiet inner peacefulness in painting California's hills, trees and coastal scenes.  And the Impressionist Art Era continues to inspire her with work in the mediums of Pastels and Oil.
 She is a Signature Member of the Pastel Society of the West Coast (PSWC), earning the award in 1998.  She was honored with the Cala Color Award given at the 2009 Pastel Society International Exhibit at the Triton Museum in San Jose.