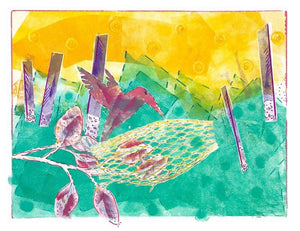 Andrea Leland, City Park I, monoprint, contemporary, abstract, mixed media. One of a kind. The image size is 12 inches by 9 inches and the framed size is 20 inches by 16 inches. Available unframed or framed in white mat and frame.

About City Park I, Andrea says: A Hummingbird in flight on a bright sunlit day in your city park.  

I have fun making these prints. This medium is a way for me to play with color, texture and stencils with unexpected results. I mix the water-based inks, paint the Plexiglas tablet and build up the layers of inked stencils.  To create the print, I take this tablet, with damp paper on top, and run both through a press. Once finished with the printmaking process, I take the prints into my Petaluma studio and embellish the images with mark making, inks, oils, bits of mixed media and chalk pastels.