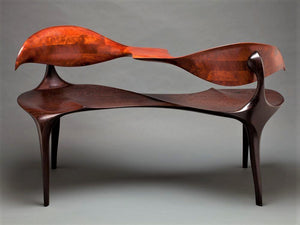 Tete-a-tete, or face-to-face, this is a bench for intimate conversations.  This one is of African mahogany and wenge.
The price range for this bench is between $7,000 and $8,000 depending on the woods used. This one uses African mahogany for the back with wenge for the seat.
Please call the gallery to order and for shipping or delivery cost.
Victor Di Novi comes from a family of artists and artisans, musicians and masons, chefs and poets.  He was exposed to the process of artistic creation as a small child and has not been far from it since.
He finds that nurturing the needs of the body with objects of daily usefulness that are used, admired, respected and appreciated nurtures the soul as well.
Each piece is custom and individually made to order, using various species of wood, and sized for each client.