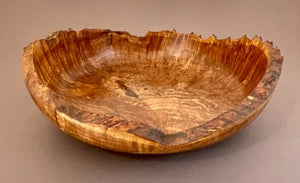 David Mahaffey, Turned Natural Edge Madrone Burl Bowl, 16 inches diameter by 5 inches deep.

David has always loved wood as a warm, natural material, and the pleasure in touching and shaping it!  In search of unique species, he has traveled far and wide – to New Zealand to find kauri, to Costa Rica for cocobolo, and to Hawaii for milo and koa.  He is especially drawn to the beautiful range of texture in wood species that have burl growth, crotch grain, and curly patterns, not to mention his enjoyment of the deep perfume of camphor and rosewood filling the studio as he works! 
Starting with beautiful material, the wood itself is the "muse," driving the exploration and almost always leading to a gratifying result.

He hopes you will enjoy and value these lovely pieces as much as he enjoyed making them!