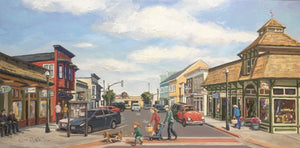 Erin Dertner, oil painting, 15" x 30" unframed. Fort Bragg's cozy Laurel Street, a local small town shopping district.

About Historic Laurel Street, Erin says:
"I was asked to paint a scene of Fort Bragg's historic Laurel Street for a local publication and was willing to accept the challenge. I had my studio on that street for 20 years and it is very dear to my heart because it's the happiest place to be in that sweet little town. I was able to look out from my 2nd storey window and watch the passersby, pop down for coffee and a chat at the drop of a hat, visit any number of wonderful shops just steps away and marvel at the morning, afternoon and evening light at every season of the year. I am happy to say that each storefront is represented, as well as the famous Skunk Train Depot at the far west end and all captured in oil paint with both the use of a brush and a palette knife. I even sought to include a few of the 'usual suspects' that visit the street regularly and to convey each sign above the businesses, even if you aren't able to read them all."
Long-time Mendocino plein air artist proficient in oils with a palette knife, oils with brushes, watercolors, and acrylics.
  Painting, studying and teaching the subject of light is Erin's driving force. The cool shadows of the early morning and those that fall long and warm in the evening enliven her creative soul as nothing else. Subject matter is secondary to the sunlight itself, though her locations speak volumes about God's wondrous world of color, drama and mystery.