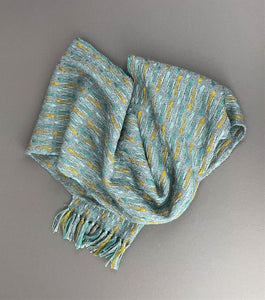 Janice Sullivan, hand-woven silk, merino wool and tencel scarf drapes beautifully with a subtle pattern. In grey, aqua and gold, 75 inches long by 9.5 inches wide.

Janice Sullivan graduated with a BA in Textiles from Boston University and
Massachusetts College of Art with a Masters in Art Education. She lived in San
Francisco from 1982 - 2005, teaching classes in Weaving and Surface Design and
exhibiting her work both locally and nationally. She has taught at City College of
San Francisco since 1995, as well San Francisco State University and College of
the Redwoods in Fort Bragg, CA.
EVERY SCARF AND SHAWL PRODUCED IN MY STUDIO IS A UNIQUE WOVEN FABRIC. BY THE NATURE OF THE PROCESS, THEY ARE NEVER REPRODUCED. TRULY ONE OF A KIND FABRICS. MY METHOD OF WORKING INCORPORATES SEVERAL DIFFERENT TECHNIQUES. THE WARPS CAN BE PAINTED WITH DYES BEFORE THEY ARE PUT ON THE LOOM, OR COMBINED WITH IKAT (RESIST WRAPPED AND DYED). WOVEN SHIBORI (A PATTERN THREAD IS WOVEN INTO THE FABRIC, PULLED, DYED AND REMOVED) IS UTILIZED TO CREATE PATTERNS OVER PATTERNS.
IN THE SHAWLS, I LIKE TO PRODUCE TEXTURAL PLEATS BY USING A VARIETY OF FIBERS THAT SHRINK DIFFERENTLY WHEN WASHED. SINCE WOOL IS A FIBER THAT CAN BE COMBINED WITH NON-SHRINKING YARNS TO CREATE THESE TEXTURAL SURFACES, A CLOTH IS CREATED THAT IS WARM AND DURABLE. SOME PIECES ARE WOVEN FROM A DIVERSITY OF YARNS, BUT ALL ARE NATURAL FIBERS. DUE TO THE VARIETY OF MATERIAL AND PROCESS, DRY CLEANING IS SUGGESTED FOR BOTH THE SCARVES AND SHAWLS.