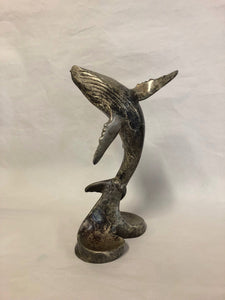 Doug Wylie has captured the majestic movement of a whale in bronze, with black crackle patina simulating the rough skin of this amazing creature. Approximately 10" high by 5.5" wide.

8 plus weeks to order. 
A sculptor working in clay and translating them to bronze, Doug has studied whales and dolphins, manatees and octopus in the Hawaiian waters with The Center For Whale Studies. He beautifully renders his sea life subjects with the grace of movement that he observed and responds to with his sculptures.  Based on careful and thoughtful  interpretation of marine life and form, he creates original sculpture pieces in clay. To transform a sculpture into a bronze masterpieces he collaborates with various foundries to oversee the reproduction of his design into bronze statuary's which ranged from small table top statuettes to monumental publicly display statues.